CLEFMONT FRANCE – July 2015
One month private international invitational residency in Clefmont, Haute Marne, France.
Professional ceramic studio in a 1715 chateau in the heart of Champagne-Ardenne region
SCOTTISH SCULPTURE WORKSHOP – October 2013
International Invitational Residency in Lumsden, Scotland
Group curators project through the Edinburgh College of Art & Craft Ontario.
ISRAEL February – March 2009
An invitation from the Ceramic Association of Israel and The Benyamini Foundation to visit Israel to give lectures and workshops on my techniques.
A professional ceramic studio was provided at Neot Haakikar located at the south tip of the Dead Sea surrounded by the complex stratified desert landscape.
Engagements included Bezelel Academy of Art & Design in Jerusalem, Tel Aviv Art Gallery School, and travels to Petra Jordan to see the remains of the 2,000-year-old Nebatean civilization
CHINA 2007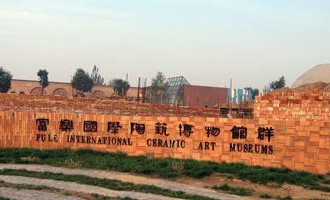 I was one of ten Canadian artists (www.ceramcanada.ca/canceram.html) invited to Fuping, China, to create new sculptural work for the inaugural opening of the Canadian Museum. Situated within a complex of International Ceramic Museums at Fuping, the Canadian Museum is under the umbrella of the FULE organization (FLICAM) (www.flicam.com/index.html). Fuping is just 70 kms north of Xi'an.
In a unique Art/Industrial exchange, the artists work for a period of four weeks at the FUTO Tile and Brick Factory compound in Fuping. Using local materials, the aim is to promote world ceramics, build an important worldwide network of artists as well as a collection of ceramics. The experience allows the artists an exceptional opportunity to use local materials and to respond to the rich cultural history of China.
Enterprising and distinguished gentleman Chairman Mr. Xu Doufeng and General Manager Mr. Fu Qiang and International Director Mr. I Chi Hsu host the program. Their vision and passion for ceramics is a "living one" they say, "mingling arts residency with a Museum collection and mingling old & new, East & West, tradition & modern".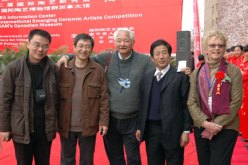 For me, the inimitable experience of working in a tile factory in China evoked a "jump and the net will appear" approach. I arrived in China with no tools but with an eagerness to learn in a new situation and leave the methods of my Toronto studio behind. Removed from the comforts of my studio and the habitual approach to my work, I looked forward to the stimulation of new surroundings.
Inspiration came in several forms. I observed workers in the factory packing and wrapping the finished tiles; in the streets, bicycle and truck deliveries typically billowed with goods and produce, requiring ingenious methods of fastening and binding; the sculptural rock forms replicated in traditional Chinese gardens. Each influenced and informed my senses, laying the foundation for the sculptural works that I completed during my residency.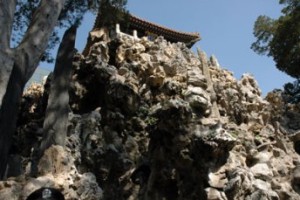 I built up my approach through these disparate influences to explore the multiple layers of swirling dark stoneware clay. I wrapped them in slip-soaked string, which burned away during the firing, to leave a web-like effect. I then used Tang dynasty glazes of amber and green in order to contrast the dark stoneware, consequently using traditional materials in a contemporary application.
The studio days were long, focused and absorbing. Interactions with artists from France, Mexico and Germany, working towards their own museum collections, enriched our experience. Day trips to local villages and to see the famous Terra Cotta Warriors and tombs in Xi'an enriched our comprehension of China's vast history and beauty.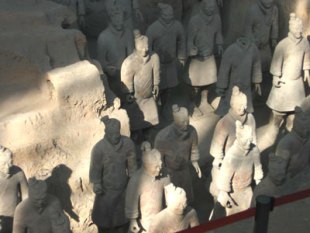 In the spirit of Art and Industry, I worked on another piece by drawing on the hand made Factory roof tiles. I wanted to champion the individual person over the speed of mass production. The curved shape of the tile reminded me of a page in an open book so I decided to depict the activities of the Factory workers using black copper oxide as my "ink". I worked "in situ" on the white porcelain washed factory tile "pages" and stacked the fifteen-minute sketches to create a clay book. The piece is entitled 'Factory Sketchbooks'. Sketching has always been a personal activity for me and in this setting they became a recorded public journal of the individual hand skills I observed and so admired in the Factory.
At the end of the intensive 4 weeks on November 6th 2007 all 10 artists accomplished a body of work to be included into the Canadian Museum collection. The Canadian Museum is a part of the North American Museum building connecting the U.S.A and Mexico Galleries. It was a celebration complete with music, speeches, fireworks, local drummers and red carpets.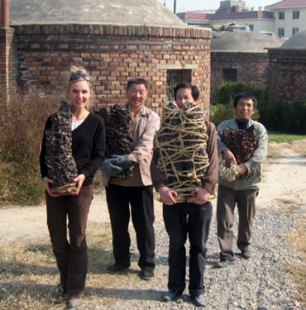 We were enriched as artists to engage in the challenges of new materials, new language and new facilities. Many thanks to the help of the hard working factory workers, our wonderful team of translators, International artists and our gracious hosts.
I would also like to make a very special Thank-you to Les Manning, Artist & Director of the Medalta International Artists in Residence program in Medicine Hat, Alberta who selected our group from across Canada. Les spent his time months before the trip corresponding on our behalf and took great care to organize and encourage us all in China!
I would also like to give thanks and acknowledge the important support of The Canada Council Travel Grant.
Other Links: artist Grace Nickel: www.gracenickel.ca